For one of our esteemed partners, a prominent player in the Software-as-a-Service (SaaS) landscape with a specialized focus on HR solutions, we are keenly searching for a senior Service Delivery Manager who has consistently showcased brilliance in their field.
Engaging with some of the Netherlands' most eminent corporations, our partner has etched a distinguished position in delivering advanced HR SaaS solutions. Their expertise extends beyond mere software; they emerge as a preeminent organization deeply anchored in valuing human interactions. The team, comprised of ardent and dedicated individuals, exudes a rare synergy and collective spirit.
This represents an unparalleled opportunity for a seasoned professional to infuse their profound service delivery acumen with a company that reveres the harmonization of cutting-edge software and personal touch, relentlessly pushing the envelope towards excellence and pioneering ventures.
Step into this illustrious organization, plunge into the dynamic realm of HR SaaS, and thrive in an environment that promotes team cohesion, rewards commitment with competitive compensation, and supports the adaptability contemporary professionals yearn for.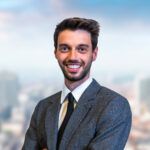 by Ilan SmadjaIT & Sales