For one of our esteemed partners, a leading figure in the Software-as-a-Service (SaaS) sector with a focus on HR solutions, we are actively seeking a senior Client Acquisition Specialist who has consistently demonstrated excellence in their field.
With a portfolio that includes some of Belgium's most prestigious names, our partner stands out in providing cutting-edge HR SaaS solutions. Beyond their software expertise, they are an elite organization with a deep commitment to a people-first approach. Their team, full of passionate and dedicated individuals, resonates with a unique sense of unity and collaboration.
This is an unparalleled opportunity for a seasoned professional to bring their robust client acquisition skills to an organization that values the perfect blend of state-of-the-art software solutions and human-centric service, always pushing the boundaries to achieve excellence and innovation.
Become a part of this outstanding organization, delve into the fast-paced world of HR SaaS, and prosper in a work environment that champions teamwork, offers competitive compensation, and embraces the flexibility modern professionals seek.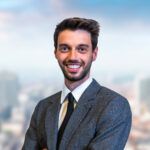 by Ilan SmadjaIT & Sales